Windows 11 has been available for people to test for a few weeks now through the Windows Insider Program on the Dev channel. With the announcement of the new Beta channel, I thought it was high time I got my hands on it and started to poke around. This article will explain how to beta test Windows 11, evaluate the changes that will affect your business, and provide some points to consider in your deployment strategy.
Become a Windows Insider
If you're not familiar with Windows Insider, this is how Microsoft allows early access to preview builds of Windows so that hobbyists and businesses can prepare for changes and provide feedback. There are 3 "channels" that decide how frequently you get a new version of the OS, with the Dev and Beta channel both now providing Windows 11. Joining the programme is a straightforward process if you use a consumer Microsoft Account or a work account (via Azure AD) – all the details on how are on Microsoft Docs. I always recommend businesses have at least some devices registered on the Insider channel so that they can assess what's coming up before you move on to more formal business pilots. New PCs will start to come with Windows 11 at the end of the year (in time for Christmas), with the in-place Windows 10 upgrades beginning to roll out late in 2021 and continue into 2022. So, with the upgrade imminent, businesses should start to expect some of their employees are likely to start using the new OS before the organisation rolls it out – this is all the more reason to have teams within IT looking at Windows 11 and preparing for it – just as they would for any of the Windows 10 semi-annual release updates that we have all gotten used to.
Installing Windows 11
As I didn't want to affect my work device, I have done my testing using my personal Microsoft account. My test device is my old Surface Pro 3. One of my colleagues, Principal Consultant Matt Clarke, wrote a blog post last month on supported Windows 11 devices. Unfortunately, the tool he writes about is not currently available, so I had to take a more manual approach. It looked to me like the Surface met the minimum spec (see stats below) but when I clicked to receive the Beta channel releases in Settings I got a warning saying it didn't. That's OK for now as Microsoft are allowing devices that don't meet the spec to test anyway.
Device name Thom-Surface-Win11
Processor: Intel(R) Core(TM) i5-4300U CPU @ 1.90GHz 2.50 GHz
Installed RAM: 4.00 GB
System type: 64-bit operating system, x64-based processor
Pen and touch: Pen and touch support with 10 touch points
TPM Specification: Version 2.0
System Firmware: UEFI with Secure Boot
I was starting from a clean install of Windows 10 1903 (as that's what I has lying around on a USB boot disk). That meant I had to first run Windows Update to get to 21H1, then run Windows Update 3 more times before Windows 11 was offered. Usually, Microsoft releases ISO files for Windows Insiders or you can download if you have a Visual Studio (aka MSDN/TechNet) subscription but there aren't any Windows 11 ones on offer yet, so an in-place upgrade was the easiest method for now. The upgrade was quick and painless, just like recent Windows 10 Feature Updates. I didn't see the out-of-box-experience (OOBE) like you'd get with a fresh install, but I did get a nice new Welcome screen after my first sign in that took me through a few choices (privacy settings etc.) I got a few buggy error messages at first, so I did another run of Windows Update, restarted, and all seemed to be running smoothly.
What's new for businesses
I'll start out by saying very little information has been released about any new features for the Pro, Enterprise, and Education editions of Windows. Take that as some comfort that the management tools and methods you use today will remain valid with Windows 11.
Much like the Windows 7 to 8, or 8 to 10 upgrades, a lot of the differences are visual. This can be quite disruptive to people if they are not aware of all the user interface changes. It's not quite as dramatic as the full screen Start menu in Windows 8 but the taskbar and Start menu have both been updated giving a more central position and style more familiar with the simplified UI of a smartphone.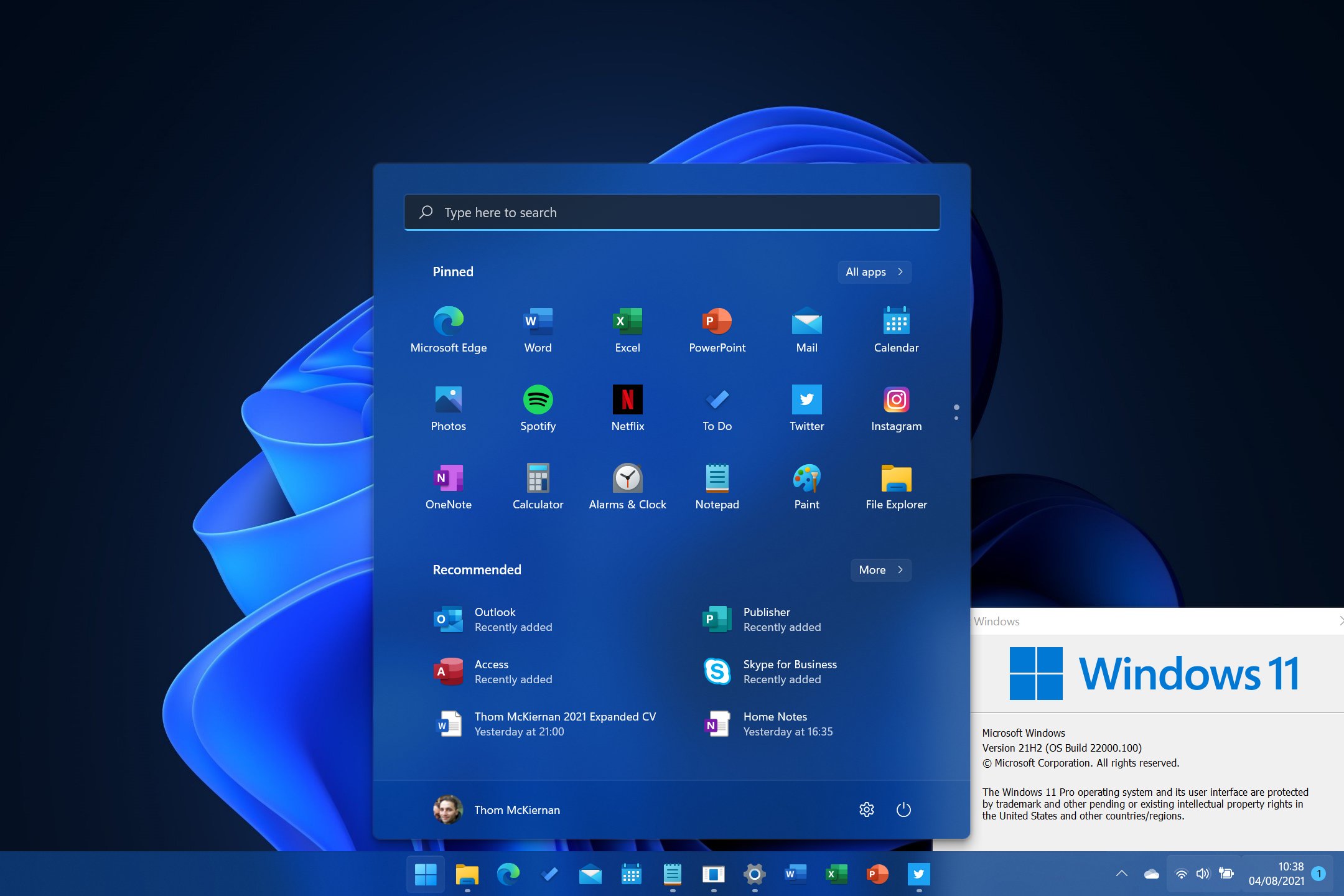 Some IT admins may have a gut reaction to try and make Windows 11 look revert to a Windows 10 look and feel with various policy settings or pushing out registry hacks, but I would encourage you to resist the urge. I always like to adopt the new UI paradigms and bring all the end-users along with them. People are used to changing styles and will want work to mirror how they use personal devices, so unnecessary customisation can sometimes actually cause the opposite effect to usability.
Other features, like the Widgets pane, new Snap Layouts, new look notification/action panels, and new look Settings should all feature in your end-user comms to help users understand any new ways of doing common tasks.
Microsoft Teams is front and centre in Windows 11, although the full story on how deep the integration will be is yet to be seen. The version you get is the consumer one, that users personal accounts. So effectively it is replacing the consumer Skype features found in Windows 10. However, we do know that Microsoft is working on a more optimised version of the business version of Teams and it should also be able to take advantage of Windows 11 enhancements, like sharing a window straight from the taskbar, or the new global "Mute Mic" button. The pictures below were provided by Microsoft:
The Microsoft Store has been given an overhaul to adopt the new look and feel. The most dramatic update though is that as well as PWAs, UWP, and Win32 apps, you will now be able to install popular Android apps directly in Windows. Under the hood this makes use of the Windows Subsystem for Linux (WSL2), Hyper-V. While not currently available in the Insider beta we hope to be able to test it soon. On the one hand it could help improve end-user productivity by giving them access on a desktop environment, but some considerations will need to be made for how enterprise can prevent confidential or sensitive information leaking. I have no doubt it will follow a similar approach to how Intune manages Mobile Application Management on smartphones today, but it will be interesting to see if businesses take advantage of this.
What's being removed from Windows 11
It's not all new things, some features and apps in Windows 10 are being removed. Looking through the full list of deprecated features I can't see many major ones that I think could cause issues to businesses except the following:
Custom Start Menu tiles and groups: As Windows 11 no longer has the Live Tile interface, organisations that were deploying custom app shortcuts via this method will need to have a new approach. Microsoft haven't revealed what this will be yet, but I'd suggest investigating PowerShell scripts to create new shortcuts or, if primarily using Cloud-based apps, investigate the new features of the Microsoft 365 My Apps portal.
Internet Explorer disabled: This is slightly hidden in Windows 10 but end-users can still find it. No more in Windows 11, which will use the new Edge (Chromium) browser. If you use websites that require IE11 compatibility, then check out the IE Mode feature in Edge
Built-in apps: OneNote for Windows 10, Skype and Paint 3D won't be installed by default on fresh Windows 11 builds (but will stay if doing an upgrade). If these are frequently used by users, you will need to add them in to your app deployment process.
Planning for the update
Microsoft confirmed that Windows 10 will remain in support until 14th October 2025 which implies there will be more updates coming (as Windows 10 21H1 end of life is December 2022). There is more info on the blog post Windows 11 lifecycle and servicing. With that in mind, it makes sense to start thinking about your upgrade plan. Here's 8 questions you can use as a starting point:
Will we need to buy new hardware?
Can we move to a modern management approach using Microsoft Endpoint Manager (Intune and Autopilot) rather than have people come to the office for the upgrade?
How quickly should we deploy the update?
What comms and user adoption approach will we take?
Who is suitable to be an early adopter/pilot user?
Can you remove legacy technologies like VPN and move to a zero trust security approach?
Will you allow Android Apps to be installed through the new Store?
Are we affected by any of the deprecated features?
Windows 11 is based on the same foundation as Windows 10 so it will support the same management tools and approach that you used to deploy Windows today. Think about what lessons you learned from your Windows 10 deployment and how you can make the Windows 11 rollout even better.
Stay in the loop
Microsoft recommend signing up to its Windows 11 newsletter to make sure you receive further information around release dates or any other major news, but I'd also recommend keeping your eye on the following official sources:
Summary
I've enjoyed using Windows 11, and after a few days using it, I hardly notice the difference. I'm still not used to the ever-moving location of the taskbar icons but we'll see how that changes before the final version is released. I'd encourage everyone who is using the Windows 11 beta to use the Feedback Hub app to report any issues or things you don't like (I've already submitted 2 and voted for others) as this is the key time for Microsoft to hear what works and what doesn't.
Until further information comes out on business and enterprise features of Windows 10 then the focus should be on your strategy and planning phases, with some early testing of Insider builds. Reach out to a Microsoft partner like risual if you want to understand more what a modern hybrid workplace strategy could look like.